FRESH TALENT, ON THE RISE…
CULTURE OF M·A·C BREAKS DOWN JUST WHY WE'RE FALLING HARD
FOR THESE LATEST SCENE–STEALERS AND STYLE LEADERS
The meteoric rise of Beijing-born singer and songwriter Leah Dou heralds the coming-of-age of an entire new generation of talented, iconoclastic international pop stars. Having only released her first album Stone Cafe last year, Leah is already playing a sold-out North American tour with her band and garnered a massive, devoted fan base across UK, Asia, the US and social media. Despite having grown up in the spotlight beside her parents — her mother is Chinese pop diva and cult film actress Faye Wong and her father is soulful singer/composer Dou Wei — Leah has carved out her own identity through music, capturing a fresh, whimsical and addictive quality to her songwriting. Her message is bolstered by a crystal clear positivity for life, passion for breaking down gender norms and embodying a beauty of her very own. Here are the many reasons she's our latest girl crush!
SHE FOUND HER VOICE AT ART SCHOOL.
"My love for music was built up step by step. In the beginning it felt like the obvious thing to go for because I was constantly surrounded by it — it never really felt personal until I applied to art school in Michigan. I chose the singer-songwriter major and the requirements were to write three original songs. That put me on the spot— I was 15 and it was my first time writing music. I realized hey, this is actually really fun!"
SHE'S THE NEW GENERATION OF CANTOPOP ROYALTY.
"I am very inspired by my aunt, Dou Ying, who's a professional backing vocalist and one of the biggest influences on me, musically. When I was young, I lived with her and my grandma in Beijing. We would always go to gigs together, and I'd follow her to the studio to watch her do her recording work. It was so surreal being able to do backing vocals for my mom's concert back in December, because I remember as a kid watching her onstage. This time my aunt was standing right next to me— I got to sing with her for my mother!"
SHE'S NOT AFRAID TO SPILL INK.
"My face tattoo is about half a year old. One day in Shanghai, my stylist and I were talking about experimenting with makeup a bit more, because I usually go with a plainer, natural look. So, I said okay— what if I drew a line right here? Just one straight line from my lip and down my neck. I did it and loved it, so a few months later I went and got it permanently done. What's funny is I didn't go to some master tattoo artist, just a random tattoo guy I found...and he was completely freaked out and sweating the whole time. We spent an entire hour trying to get the line right before he actually started with the machine and needed a smoke break every two minutes— he was so scared. All nine of my tattoos have been impulse tattoos and I've never really given them any thought. There's an alien on my palm, the traditional stamped chinese character for 'music' on the other and my first one — a mandala on my shoulder. Sometimes when I'm on Instagram or Weibo, I see some people getting the same tattoos as me. It's pretty crazy, because I've never considered myself a style icon."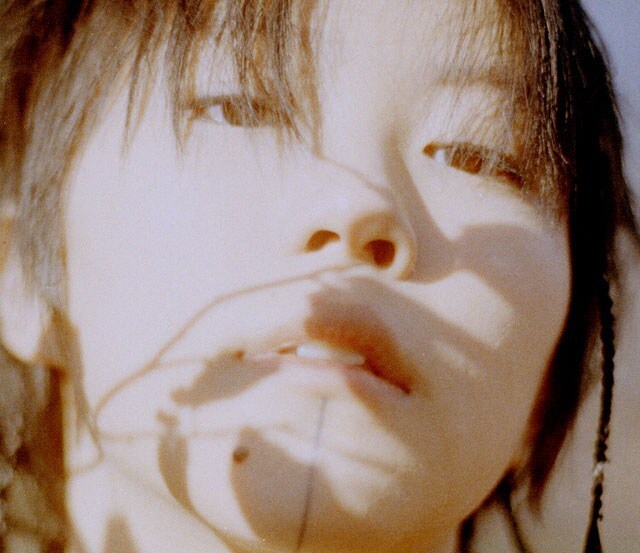 BOWIE TAUGHT HER WELL.
"The most iconic people to me are those who have a style with both female and male qualities— like David Bowie. I relate to androgynous beauty more. It's so honest and normal — whether you're a girl or a boy — to have qualities of the opposite sex. I feel comfortable with and want to express that. I've never felt the pressure to fit in, even back when I was in school in Beijing. One day I just decided I preferred shorts over skirts."
SHE KNOWS HER CITY'S SECRETS.
"Beijing is my roots, it's home for me. It's a very big city, so there are different places I like to go— small alleyways in Hutong, and an old factory close to where my grandma lives. Someone bought the factory and changed it into this little yard with coffee shops and a big white wall that they project movies onto in the summer. You can find neat places like that— for example, there was a place that used to be a garbage station, but before that was actually the place where the emperor used to make gold. Someone then bought it and turned it into a restaurant and hotel called Temple, keeping it in the old Chinese architectural style."
SHE WORKS AS A BARISTA OFF-DUTY — BY CHOICE.
"Sometimes when I'm home, I work at a coffee shop called 27. You'll have to be the judge of whether I make a good cup of coffee but I can make a really ugly latte heart! When you're a somewhat known person, people tend to put you on a platform and treat you as though you're not part of regular society, when actually you're really just like everyone else. It was easy to feel a bit isolated at times, and I've always wanted to work at a coffee shop, so I asked my stepdad if I could work at his. I don't drink coffee that much, but I love the smell of it and being able to hang with my coworkers and talk about normal life stuff."
SHE IS A LUCID DREAMER.
"Dreams are very interesting. When I was kid I always had nightmares, so I would try to tell myself to wake up. It started out that way and after a while it became so that I could control my dreams. For a very long time I could lucid dream and could control what I dreamt of— and it would work 8 out of 10 times. If there was something in particular I wanted to dream about, I would look at pictures or read something that would stimulate my brain and then I'd go to sleep. I could even continue the dream the next night! It's easier when you're young— now I find it pretty difficult and I haven't tried in a long time. Dreams that are completely irrelevant to my life are the most beautiful. I've had experiences where I would meet a new person in my dream and I would fall in love with them. And when I woke up I would be so sad, heartbroken— I wouldn't be able to forget about it at all. I feel like this ability could be pretty dangerous —what if you get too much control and you eventually feel more control in dreams than in real life?"